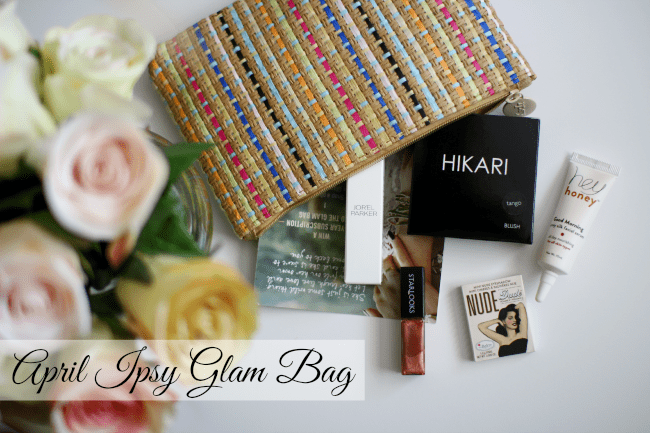 Ipsy Glam Bag is a monthly beauty subscription that only costs $10. It is a great way to grow your makeup collection and I always look forward to receiving them in the mail. April's theme is "Beautifully Bohemian" so the cute woven bag fits perfectly. Each bag comes with full size or deluxe-sized products and this month I loved everything!
Ipsy Glam Bag Review April 2015
Jor'el Parker Femina – Definitely my favorite thing in this months Ipsy bag. I apply it every day even if I am not leaving the house and will definitely buy the full-size version. This fragrance is from Jor'el Parker and is described as Welcoming. Loving. Refreshing.
Starlooks Satin Finish Lip Gloss in Cuddle – A non-sticky formula available in 47 different shades. This creamy, glassy, long-lasting gloss adds a glistening effect to any lip look. Designed to be worn alone or in combination with other lip products for a truly customizable finish that completes any look. Each tinted Lip Gloss comes beautifully packaged in a translucent tube with a doe foot applicator.
Hey Honey: Good Morning – Honey Silk Facial Serum – This is a light serum that replenishes and protects the skin. It works as a rich moisturizer to smooth and improve skin tone so it is bright and radiant. I loved it because it works excellent under makeup as a primer and works for either day or night.
theBalm Cosmetics NUDE Dude Eyeshadow Single in Fit – A shimmering copper shade with excellent payoff and easy application. Applying it with water darkens up the shade so it lasts all day and night too.
Hikari Cosmetics Blush in Tango – A vibrant, blendable blush designed to highlight the complexion for a fresh look. This is a great blush because it offers excellent color payoff and is the perfect flushed shade for Summer.