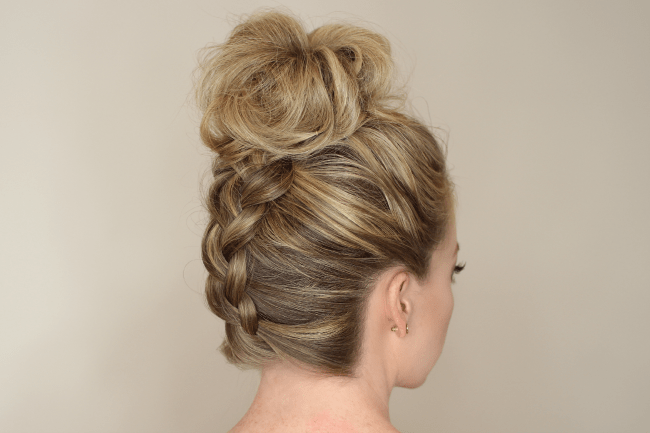 A dutch braid trailing up the back of the head and ending in a messy bun is a new tutorial from the Upside Down Dutch Braid to Bun. This version, the upside down braid to bun, is an updated tutorial that features a more messy bun.
Two of my favorite combinations, a braid and a bun, this hairstyle is great for day old hair or when you're rushing out the door. It can take  a bit of practice at first to get it just right but I think the Dutch version versus the French braid version is ten times easier so I would definitely recommend that.
Let's get on to the tutorial!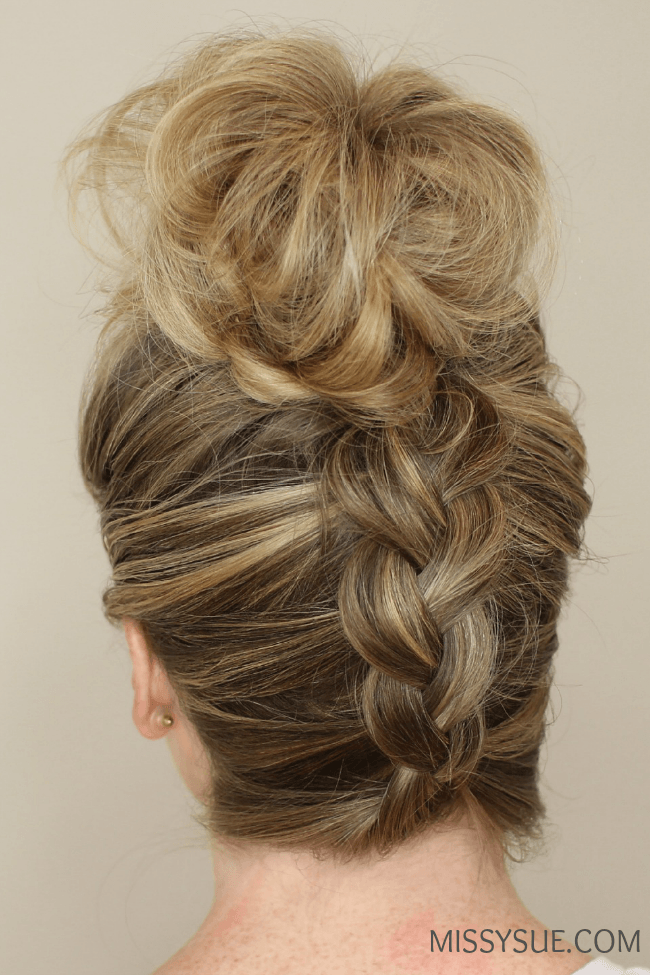 Upside Down Braid to Bun Instructions:
Step 1 / Start by flipping the head over to work with the hair underneath.
Step 2 / Take a small section of hair at the nape of the neck and divide it into three pieces.
Step 3 / Cross the side strands under the middle to begin a regular braid.
Step 4 / Cross the side strand under the middle then bring in a section of hair and add it into the strand.
Step 5 / Cross the other side strand under the middle, bringing in hair again.
Step 6 / Continue braiding the hair in a dutch braid until it reaches the top of the ears.
Step 7 / Tie off the braid to keep it from coming undone.
Step 8 / Sitting back upright, sweep the rest of the hair into a high ponytail.
Step 9 / Wrap the hair band around the hair once.
Step 10 / Twist the hair as you twist the hair band the second time and loop it over the bun.
Step 11 / Pin down any hair that is sticking out.
Step 12 / Spray with hairspray and smooth down any flyaways.
Step 13 / To make the braid larger, gently pull on the sides.