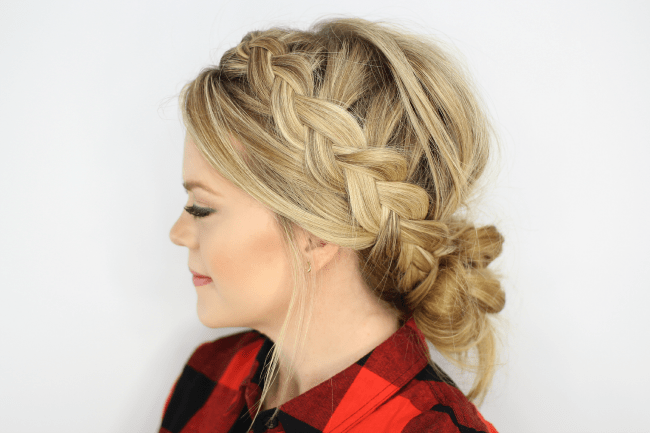 Dutch braids and low messy bun is an easy hairstyle to wear casually or dressed up. With a low messy bun it is perfect for every day or create a sleek donut bun or chignon to dress it up for wearing out. With the holidays right around the corner, I wanted to feature a different variety of hairstyles that will be perfect for holiday parties and get-togethers with friends. This hairstyle is quick and easy to do and perfect for looking put-together this holiday season.
Dutch Braids and Low Messy Bun Steps:
Step 1 / Start with a side part on the right side.
Step 2 / Pick up a section of hair on the heavy side of the part leaving a small section of hair right at the hairline.
Step 3 / Divide the section into three smaller sections.
Step 4 / Cross the back strand under the middle.
Step 5 / Then cross the front strand under the middle.
Step 6 / Cross the back strand under the middle and bring in a section of hair, incorporating it into the braid.
Step 7 / Next, cross the front strand under the middle and bring in another section, continuing to leave out the front bang portion.
Step 8 / Repeat steps 6 and 7 two more times.
Step 9 / Now gradually bring in the front bang portions.
Step 10 / Once the braid reaches the ear, continue braiding the hair down in a regular braid  and tie off the end with a clear elastic band.
Step 14 / Now create another dutch braid on the other side of the head, then tying it off with an elastic band.
Step 15 /Bring all the hair up into a low ponytail.
Step 16 / Wrap the elastic band one time over the hair.
Step 17 / Then wrap the hair pulling it halfway through the band.
Step 18 / Pin sections of the hair up to create a low messy bun.