Braid Wrapped High Bun is the perfect way to spice up a top knot.
I took the basic technique from my Double Bun tutorial and switched out the twists for braids then completed the look with a cute, star cluster headband from ASOS.
For this particular hairstyle you will need a hair donut unless you're a pro and can create it without one. I bet you could also substitute the bun for a regular messy bun using the hair left out for the braiding. That sounds like another tutorial in itself, though. Maybe I will have to do some practicing for that one.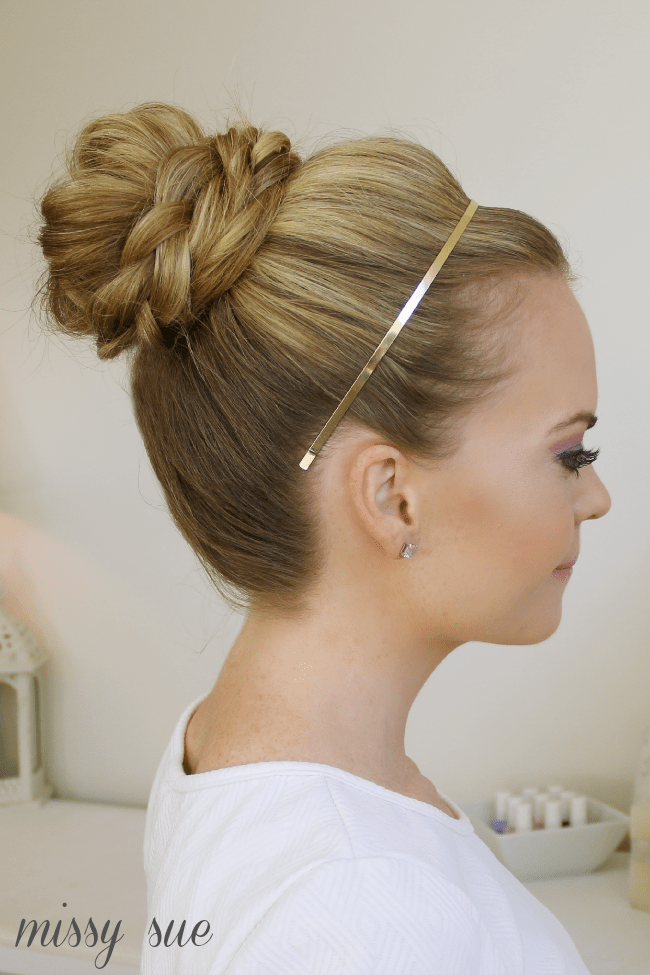 Click through for the video tutorial
Follow these steps to achieve the Braided Wrapped High Bun:
Step 2 / Take a
hair donut
 and place the ponytail through the middle so it sits against the head.
Step 3 / Tilting your head down, spread the ponytail around the donut so there is an even amount of head around it.
Step 4 / Grab a metal-free hair band and wrap it over the top of the donut so it keeps the hair spread.
Step 5 / Divide the hair sticking out from the hair band into two halves, left and right.
Step 6 / Braid each side down into a regular braid and secure the end with an hair elastic.
Step 7 / Take the braid on the left and wrap it across the front of the bun and wrap it around the bun. .
Step 8 / Pin the end with a hair pin, securing it against the bun.
Step 9 / With the braid on the right side, wrap it towards the left, going around the bun, securing it with another hair pin.
Step 10 / Gently pull on the bun to create a larger bun – this is ideal for making the hairstyle proportional.
Step 11 / Grab some hairspray and smooth down any flyaways creating a seamless look.
Step 12 / Take your favorite headband, I am using
this one
from
ASOS
, and place it 1″ – 1.5″ from the hairline.
Done!