Dutch Headband Hair Tuck features a braided headband  with the rest of the hair tucked up into a roll similar to the Tuck and Cover hairstyle.
This hairstyle can be a little tricky to do but is so cute to wear. I received so many compliments while I wore this style and I just know that you will too! I first saw a similar hairstyle on instagram and loved it so much I knew I had to recreate it. I hope you love it as much as I do!
Here are the steps to completing the look:
Step 1 / Begin by separating out a section of hair along the hairline at the front from the part down to the ear. Tie this off so it is out of the way.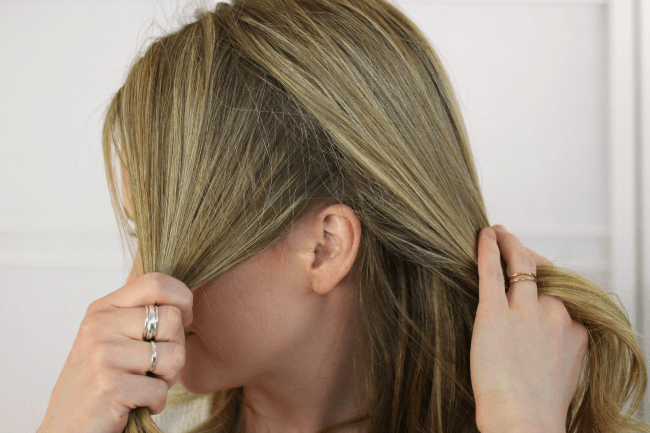 Step 2 / Braid a dutch braid (french braid style) right behind the section that was tied off. Once the braid reaches the ear, finish in a regular style braid.
Step 3 / Cross the braid over the back of the head and pin it against the head, directly behind the right ear.
Step 4 / Wrap the tail of the back back over the top of the braid and tuck it underneath. Pin any excess hair that sticks out.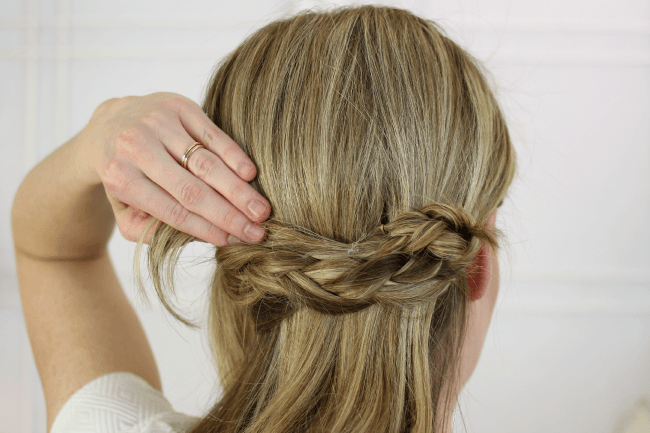 Step 5 / Take the remaining hair and roll it up, tucking it into the braid. If you have mucho hair, toss in a few hair pins to help secure it.
Step 6 / With the front hair separated in the beginning, twist it back towards the bun and tuck it into the rolled portion. Secure with pins hiding them underneath the braid.