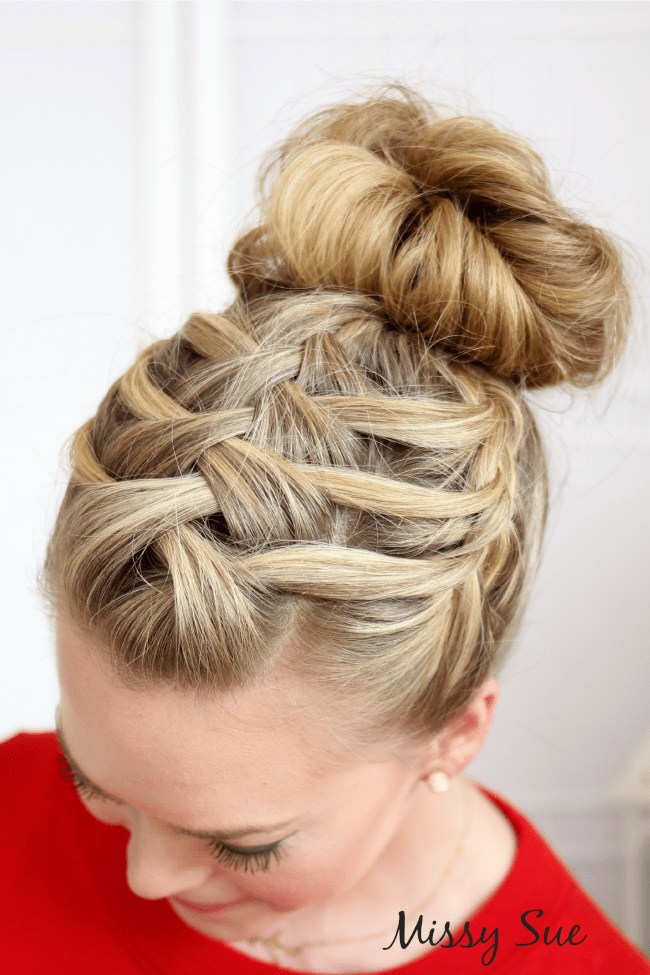 Braid 14-Triple French Braid Double Waterfall is the French Braid High Bun on steroids; the one that makes it into the Olympics and sneaks off with the gold medal while the judges are still trying to figure out what its title even means.
Believe it or not, I did this hairstyle entirely by mistake one morning while I was getting ready for work. When it worked out the first time I couldn't even believe it and snapped a pic to send to my friend.
The hairstyle immediately took me back to my cheerleading days and I knew I had to share it as one of my braids for the #20Braids for Spring series.
It is actually a whole lot easier to do than it looks but if you are already tripped out by the pictures alone, don't worry because I have got a video tutorial for this baby.

Braid 14 Triple French Braid Double Waterfall Instructions:
1 / Part the hair into three sections, left side, middle (crown), right side.
2 / Pin down the side sections and start with the middle piece.
3 / Pull up a front piece in the middle section and divide this into three strands.
4 / Do one stitch of a regular braid, left over middle, right over middle.
5 / Now when you start to begin the french braid, instead of crossing the usual strand over the middle, drop it down like a waterfall braid, and pull in a section of hair behind that strand and cross it over as usual.
6 / Repeat step five with the opposite side. I'm already confused, are you sure you don't just want to watch the video?
7 / Now, repeat steps five and six, creating a double sided waterfall braid until you reach the back of the crown.
8 / Secure the braid down with a hair pin.
9 / Now, take a section of hair on the left side of the head and begin a regular french braid pulling in the strands that were left out of the first braid.
10 / Secure this braid next to the first braid at the back of the crown.
11 / Repeat steps 9 and 10 creating a braid on the right side of the head.
12 / Now, toss the rest of your hair into a messy bun; this headband top knot is my fave.

Done, girlfriend!
Whew! So glad you made it through, worth the wait right?
How are your arms, tired? That's okay because you look fabulous.