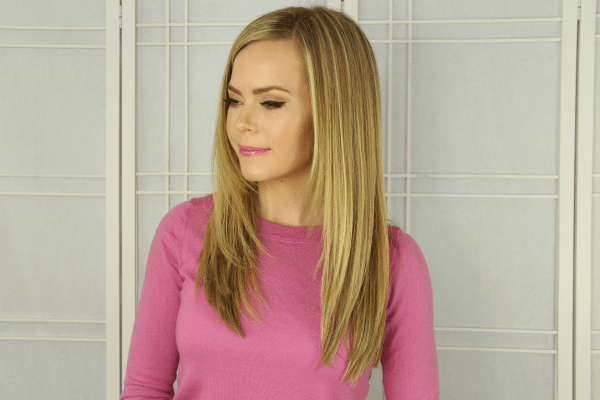 A little while ago I purchased Sassy brand hair extensions for a hair tutorial but watched as they sat in my bathroom collecting dust after that. I never thought I would be the type of girl who wore them. Hair extensions simply weren't for me and even as I purchased them, I was wishing I could walk out without them.
Recently, as I noticed them hanging up I decided to clip them in, pretending I was wearing them for real, to see how I felt about them. I decided to wear them for an outfit post and as it turned out, were so silky soft that I felt pretty darn glamorous wearing them (ha!). After that I knew I needed to trim them up so I could start wearing them more regularly if I wanted.
This tutorial works in three parts and begins by clipping all the hair extensions into place around the head. With them clipped into their proper spot they can be trimmed down to the desired length. I decided to keep mine about 1-2 inches longer than my real hair. After the hair is roughly trimmed the extensions are removed so they can be layered and thinned out.
Layering the extensions is easy to do once you know how to properly position the scissors. Starting about 2-3 inches up from the bottom of the hair, carefully snip downwards at a vertical angle, until the bottom of the strands are reached. This method is continued through each extension so they are all thinned evenly.
The last step is to clip the extensions back into place, once more on the head, and trim the hair around the face to align with any face framing layers. This will help them blend better with your tresses and appear more natural.
Good luck and happy trimming!

Stay up to date when new videos are posted by subscribing to my channel. Simply click the red YouTube button! Thanks!