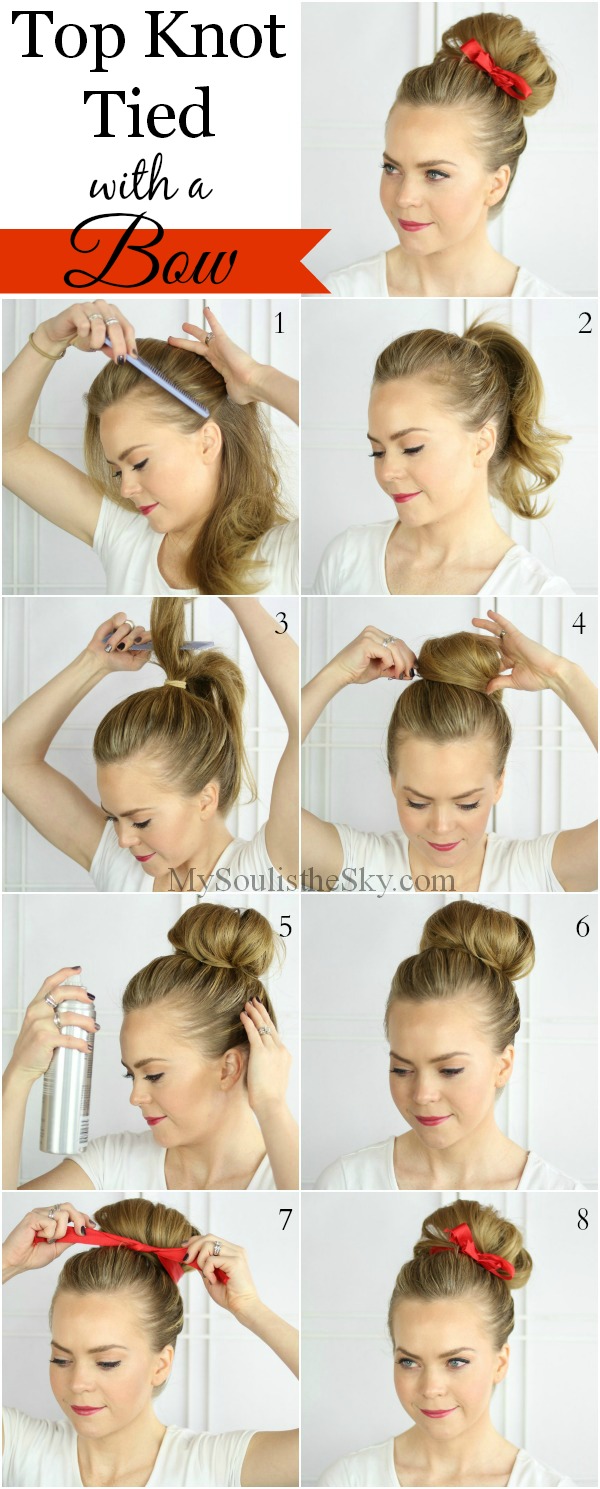 A top knot with a bow, an all-time favorite hairstyle. This is a great way to toss your hair up for the upcoming holiday season. It is simple and chic and thrown together in mere minutes. I especially love it because you can roll out of bed and put it together without having to wrestle your straightener from its hibernation drawer, detangling the cord while rubbing the sleepies from your eyes.
A top knot has been a recent rage with a squishy donut at its helm. This, however, is done by gently wrapping the hair around the base of the ponytail and pinning the edges in place. Teasing the hair, as seen in step 3, helps increase the size of the bun without the need of a donut. A quick tip that can help you achieve this style a little easier is tying the ribbon into a bow first then slipping a hair pin through the back before sliding it into the bun a little off center. You won't have to worry about it untying or disturbing the bun that can sometimes take a while to get just right.
Here are the official steps!
1 / Brush the hair back into a high ponytail
2 / Secure the hair in place with a metal-free elastic band and pull it tight.
3 / Back comb the ponytail to create lift and volume for the bun.
4 / Pull the hair forward and then gently wrap it to the right around the band and pin the edges.
5 / Smooth the sides and mist with a hint of hairspray.
6 / Double check that the bun is centered and even all the way around.
7 / Take a ribbon and wrap it around the bun before tying a bow in the front.
8 / Now you are ready for all the holiday parties!