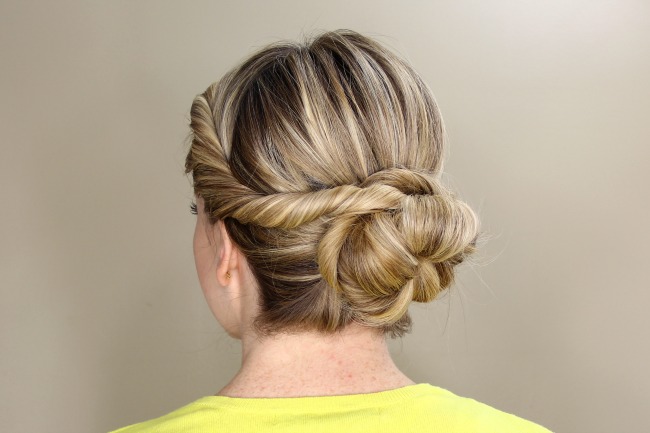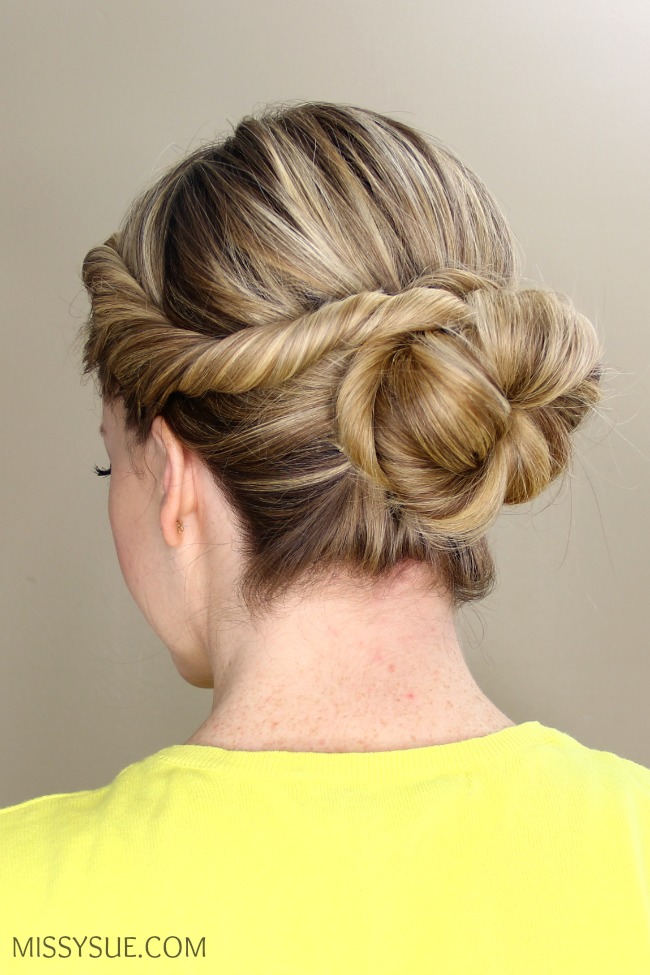 I am so excited to be sharing a hair tutorial from my book DIY Updos, Knots, and Twists. This cute updo features two twists on each side that wrap around a donut style bun. It's a really quick and easy way to dress up your everyday bun and can be done in a snap! See the tutorial below to learn how it's done and don't forget to check out DIY Updos, Knots, and Twists (here) for other great styles and tips!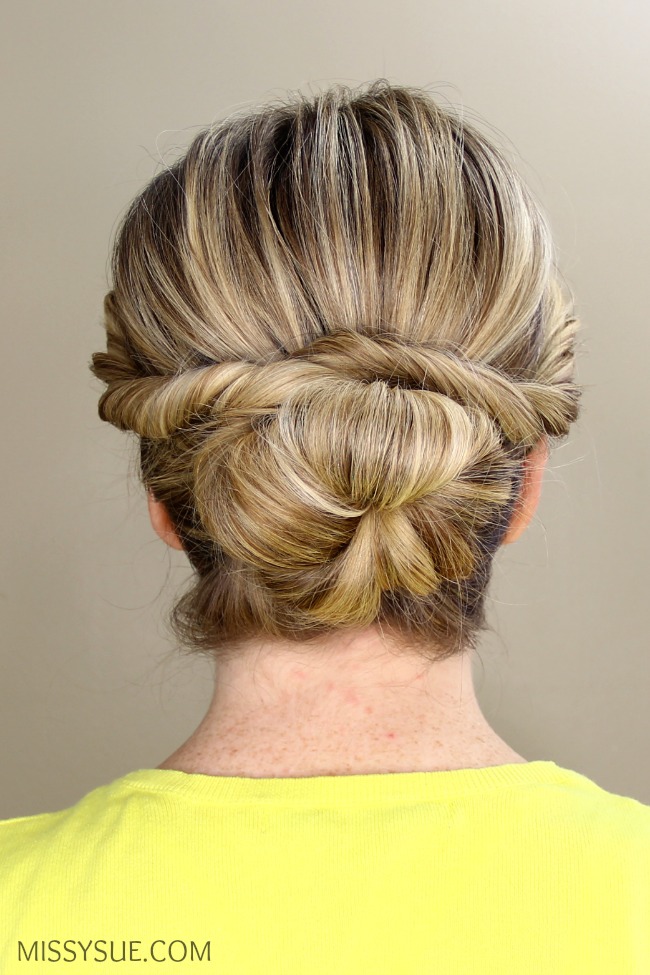 Twists to Bun Supplies:
Twists to Bun Instructions:
Step 1 / With a part on the right side, create a vertical part down to each ear. Then clip each forward portion out of the way with a hair sectioning clip so the back section is left down.

Step 2 / Pick up the back section of hair and twist all the hair together. Wrap it clock-wise at the center of the back of the head creating a spiral shape.
Step 3 / Secure the bun with bobby pins by sliding them towards the center of the bun. Use as many pins as you need; I like to use at least six working my way around the bun. If your hair is thin, you may need less than that or more if your hair is very thick.
Step 4 / Remove the clip holding the right, front portion of hair. Twist the section together directing it towards the back of the head, adding in hair as you go until all the hair is brought in.
Step 5 / Lay the twist over the top of the bun and wrap it counter clockwise towards the bottom.
Step 6 / Secure the tail of the twist by pinning it underneath the bun, sliding the pin towards the middle of the bun.
Step 7 / Now create a second twist with the hair on the left side of the head. Lay it over the bun, wrapping it clock-wise this time.
Step 8 / Pin down the end of the twist, hiding it underneath the bun.
Step 9 / Set the style with hairspray and smooth down any stray hairs.
Tips:
To create a smooth bun and twists, spray the hair first with hairspray and comb through it to remove any tangles.

When rolling the hair for the bun and twists, keep it tight so it doesn't come loose. It is easier to loosen them up afterwards than make them tighter later on.
Be sure to check out DIY Updos, Knots and Twists for other great style ideas! You can also click the image in the sidebar, on the right side of this page to read more about the book!